Dana White's UFC 133, Day 3 vlog follows Dana in the final days of preparation before UFC 133.
Dana attends the pre-fight presser, then wins doughboy stacks in Atlantic City. He also visits the world famous Geno's Cheesesteaks (
why not Pat's?
).
In between time, the vlog shows Dana greeting and interacting with many UFC fighters, including Rashad Evans, Vitor Belfort, and Dominick Cruz. But one exchange that stood out was the greeting between Dana White and Tito Ortiz
Dana and Tito have an interesting love-hate relationship, but the peculiar token of affection that takes place twice in the latest UFC 133 vlog might explain why Tito has been able to hang around this long.
Two times in the vlog, we see Tito Ortiz approach Dana White from behind. Now, if they had done this for a MMA legalization meeting in New York, perhaps the state that prioritized gay marriage over mixed martial arts regulation would've been more inclined to consider a sport that involves two sweaty men holding each other.
Male-to-male hug-butts are not g-style. Just sayin'...
Gifs after the jump...
At the 1:19 mark: the sneak attack.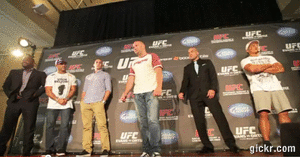 At the 4:15 mark: hug-butts with a smile.