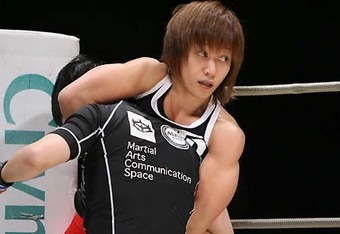 This week has been a major step forward for Women's MMA as two major promotions hosted Women's mixed martial arts tournaments. On Thursday night, Bellator kicked off its Women's Junior Flyweight Tournament, with two preliminary bouts between Carla Esparza and Megumi Fujii, and Lynn Alvarez and Jessica Aguilar. The next evening, Friday 13th, Strikeforce hosted its one-night Women's 135lb tournament, with four women going head-to-head to decide the top contender to challenge Sarah Kaufman for the Strikeforce Women's Bantamweight Title. The tournament paired Miesha Tate against Maiju Kujala, and Hitomi Akano facing Carina Damm.
Of the remarkable list of fighters mentioned above, two came with a common mission. Japanese female fighters Megumi Fujii and Hitomi Akano stepped into the cage to resurrect the Japanese banner in mixed martial arts.
Fujii and Akano arrive just as the first shovel-fulls of dirt rain down on the Japanese MMA casket. Financial problems and strong North American competition have placed Japanese MMA on the backburner. Efforts to sustain the sinking ship have proved sluggish, but the two female fighters may have exposed the key to unlocking Japan's lost potential -- Women's MMA.
Megumii Fujii is undefeated at 21-0. Her record remained unblemished through the first round of Bellator's Women's 115lb Tournament as she rolled Carla Esparza into a classic arm bar submission. The win racked up her sixteenth submission victory.
Hitomi Akano, Fujii's Abe Ani Combat Club teammate, competed in Friday night's Strikeforce Women's 135lb tournament. Akano showed out against Brazilian Jiu Jitsu black belt Carina Damm, submitting the Brazilian with a combination triangle-arm bar in the second round. Advancing to the final round, Akano met highly advanced wrestler Miesha 'Takedown' Tate. The bout was an electrifying display of grappling ability by both fighters, with Tate gaining the upperhand in the grappling and striking departments. Despite the loss, Akano made a convincing showing against an experienced wrestler, enough to stamp the Japanese MMA statement on American soil.
In terms of global exposure, Women's MMA in Japan has always existed in the shadow of its male counterpart. Now if Japan can utilize its stable of female fighters to ride the Women's MMA wave in North America then maybe there's a breakthrough on the horizon for both Japanese and Women's mixed martial arts.
(Pictured: Megumi Fujii; Photo Props: bleacherreport.com)