No they are not ring girls. . .
The women pictured below all fight for Bellator Fighting Championships, many of which will fight in Bellator's Women's Flyweight Tournament (denoted by *). The tournament will kick off tomorrow with Jessica Aguilar taking on Lynn Alvarez, and Megumi Fujii facing Carla Esparza.
These fighting beauties could easily pick up a round card between rounds, but they've opted for 5 oz. gloves and mouth guards instead. But enough of the commentary, I'll let the pictures speak for themselves.
*Jessica Aguilar (8-3)
(Photo Props: jessicaaguilar.com)
*Lynn 'Lights Out' Alvarez (5-1)
(Photo Props:
http://www.fightergirls.com/fighter.asp?ID=1001)
Stephanie Frausto (2-2)
(Photo Props: bellator.com)
*Zoila 'Warrior Princess' Frausto (7-1)
(Photo Props: http://rty-publications.com/images/zoila%20frausto%20III.jpg)
*Carla Esparza (3-0)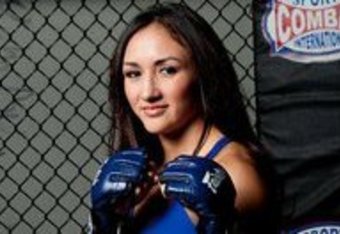 (Photo Props: http://cdn.bleacherreport.net/images)
*Jessica Pene (7-0)
(Photo Props: http://femalemixedmartialartists.blogspot)
*Lisa Ward (13-5)
(Photo Props: fightergirls.com)
*Will compete in Bellator's Women's Flyweight Tournament